ALEX JESSICA FIT
Branding / Web Design

---
Alex smashes it, simple as. We love her passion and drive, it runs straight through from what she does as a personal trainer to her everyday life so its been a good project since the beginning. Alex knew the look and feel she was after with her brand as she has built a great following on her social channels over the past couple of years and now needed her on-line presence to match her image. Her hard work, commitment, training and learning has got her to a very high level in the health & fitness industry, a personal trainer who is extensively qualified and has a passion for what she fuels her body with, a pretty good person to be around!
We started with the brand identity and researched her competitors and what Alex was liking the look of, she told us she liked the turquoise shades and wanted a clean look, her vision for the site would be a lot of white space so we wanted something to work against colour but be punchy on white. We got sketching some compositions and started working the colours against some typefaces in to get an opinion on. We knew where the brand was going so we started on the UX / UI of the site with a wireframe for Alex to get a good vision of what the site would look like live. Clean and simple shapes set the layout with a strong white space surround, we brought the brand colour in on hovers, call to actions and included a sharp styling overlaid on banners and feature images.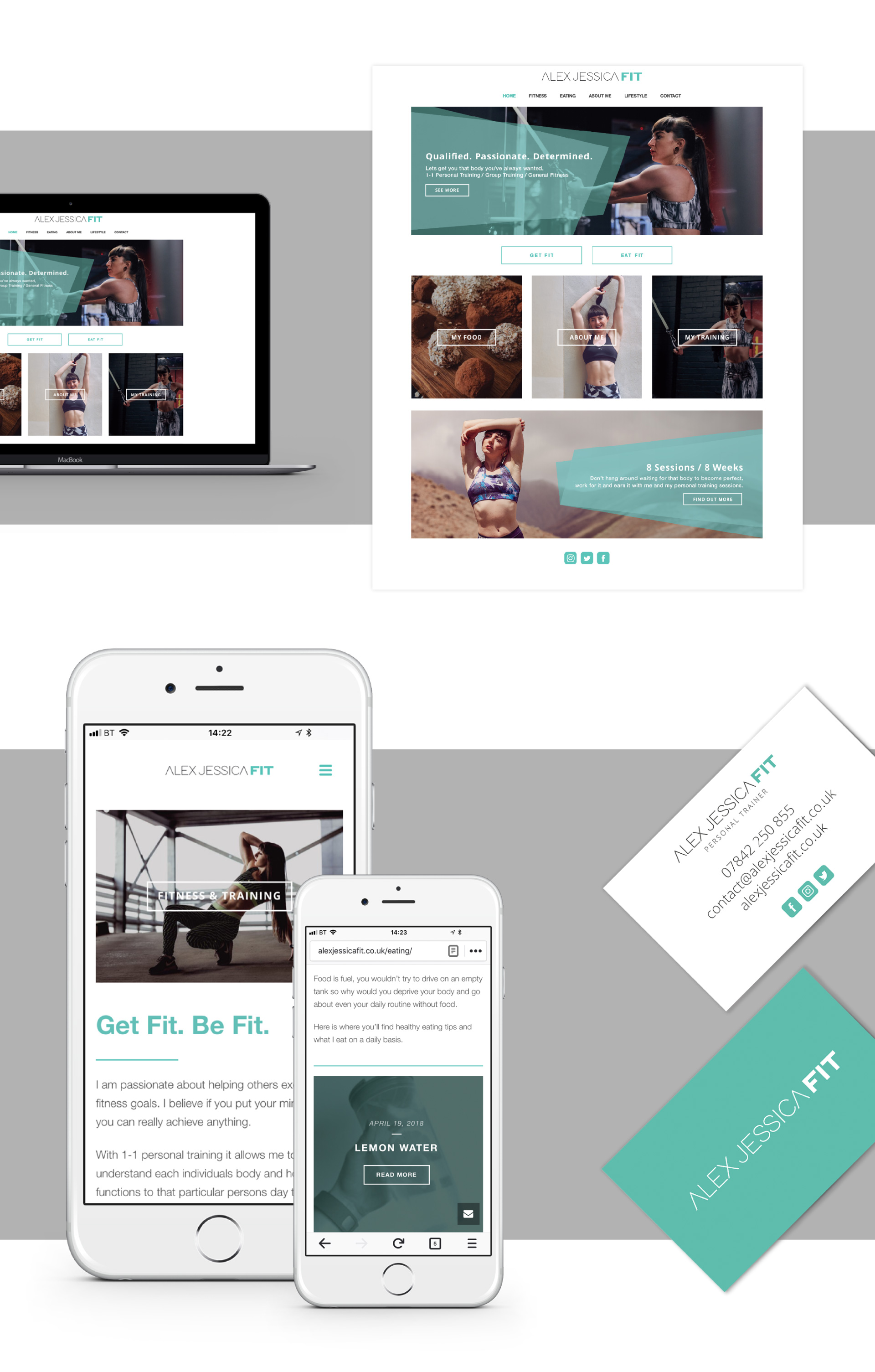 Alex is the partner of our good friend Rick Whittle so we had the best inventory of imagery we could ask for throughout the whole project. We didn't want to overload any design application so simple outline styling was used alongside the solid type and a splash of colour in a geometric style here and there for some call-to-action banners. The site build is still ongoing and no doubt will always grow but we have got to a good point where Alex can now use it alongside her career with her current and potential new customers.
To see more about Alex Jessica Fit or even get into shape and get on that body you dream of! Take a look at Alexjessicafit.co.uk